The University of Burgos has joined an exciting team with the Polytechnic of Leiria from Portugal, Euroform from Italy, the Official College of Psychologists of Castilla y León, and Bjäland to present to you a very interesting course: "New Teaching Perspectives in Gender Violence Victim Intervention within Higher Education Curricula."
What makes this course so special?
Well, it's part of something even bigger: the European Project 360 REWIN, financially supported by the European Commission. The course is designed to fit into your schedule, as it will take place during the afternoons of September 18th and 19th, 2023, and also during the morning of the 19th, in the impressive Auditorium of the Faculty of Education of our beloved University of Burgos.
What can you expect from this course?
It's not just a series of academic lessons. We are aiming to go beyond and make our reflections translate into a real impact on our current society. The central idea is to promote the creation of a higher educational environment that is attentive and responsive to the gender and class challenges in our society. And we are not alone in this, as we have the participation of experts from different fields such as education, psychology, and health, who have worked with individuals facing discrimination.
Our goal is clear
We want to equip our future professionals with the necessary tools, skills, and attitudes to face these challenges. We strive to educate individuals who are sensitive to personal needs and dedicated to building a fairer and more equitable society. We firmly believe that through education, we can create a real and positive impact, weaving a network of understanding, empathy, and change.
On behalf of everyone who has worked on organizing this course, we extend a warm invitation to join this exciting intellectual and ethical adventure. Together, we will explore "New Teaching Perspectives in Gender Violence Victim Intervention within Higher Education Curricula" and generate an enriching dialogue that will resonate in our classrooms and throughout society.
Program of the course:
September 18th (Monday)
17:00 Institutional Presentation: University of Burgos.
17:20 Presentation of the Toolkit "Integration of the Fight against Violence and Gender Inequality, with a Special Focus on Migrant Women" (Bjäland)
18:10 Migrations, Women, and Gender Violence: Analysis of the Current Framework. Presenter: Valeriana Guijo Blanco (UBU) Speaker: F. Javier García Castaño. Professor of Social Anthropology. Institute of Migrations.
19:15 Presentation of Good Practices (UBU). · Adoratrices Burgos · ACCEM · Burgos Acoge
20:30 End of the Session.
September 19th, 2023 (Tuesday)
Morning Session 2.5h.
12:00 Added Value of the 360 REWIN Project – REsilient Immigrant Women Interventions for Inclusion (UBU)
13:00 Experiences and Good Practices. (Moderator: Miriam Calvo Ruiz). · Araceli Jiménez Pelcastre: Internal Migration and Labor Insertion in Care Activities in Mexico. Analysis based on gender, ethnicity, and the workers' background. Autonomous University of the State of Hidalgo (Mexico). · Lorea Boneke Antolín and Consuelo Rojo Fernández: Human Trafficking and Female Genital Mutilation. Adoratrices Burgos. 14:30 End of session. Afternoon Session 3.5h.
17:00 Workshop I: Practical Workshops using the Toolkit (R1): Inclusion of the Fight against Gender Violence in Higher Education (Member of the University of Leiria).
17:45 Workshop II: Practical Workshops using the VLP (R2): Experience of the Official College of Psychologists of Castilla y León in the Fight against Gender Violence.
18:30 Violence against Women and Culture: · Silvia Ubillos Landa (UBU) · Gina Marcela Arias Rodríguez (Catholic University of Pereira, Colombia)
20:00 Conclusion Panel (ULeiria, Bjäland, COPCyL, EUROFORM, UBU).
20:30 End of the Event.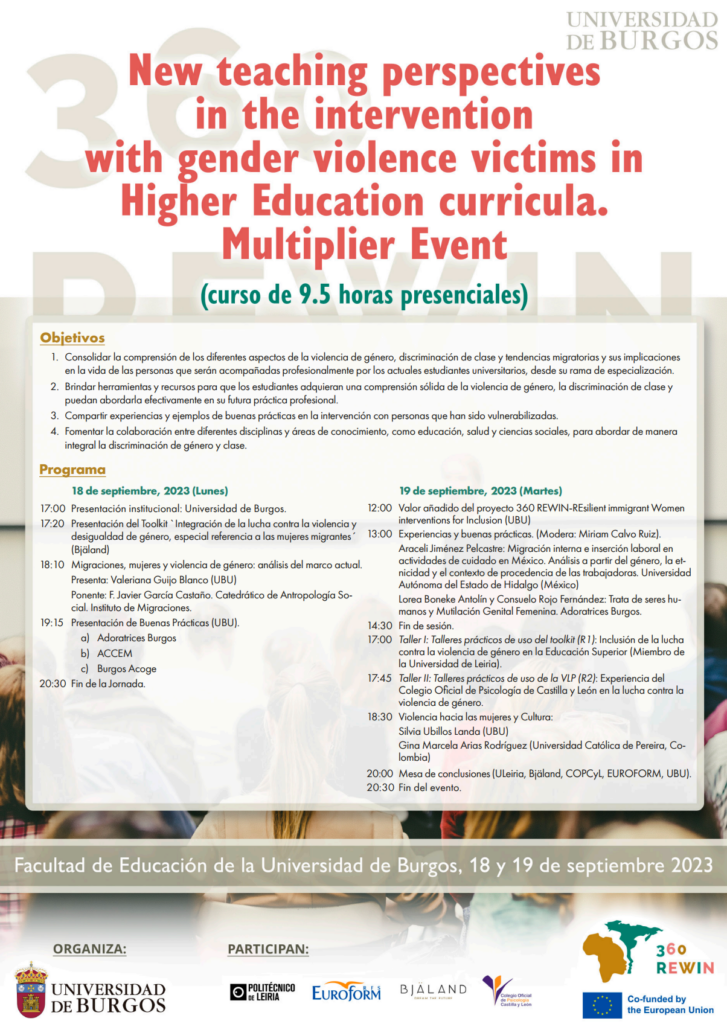 We are grateful for your interest and enthusiasm in this joint effort to enhance our understanding and commitment to social justice. We hope to have your participation!